In the realms of British TV, few have come bigger then "Top Gear". It's a show that has won an Emmy (2005, Non-Scripted Entertainment), been nominated for BAFTA's and National Television Awards, (winning in 2006, 2007, 2008 and 2011, Most Popular Factual Programme) and been syndicated globally. This has made it one of the BBC's most popular and most profitable franchises. And it returns for a new series this Sunday. But it's under vastly new management. But that's not new.
The show started in 1977 as regional programming for BBC Midlands, hosted by Angela Rippon and news-man Tom Coyne. It was first broadcast as a monthly 30-minute magazine style show covering field tests, safety, fuel economy, etc. It continued in this mainly informative style having many hosts over the years including the now well known Stirling Moss, Tiff Needell, Jon Bentley, Noel Edmonds and Quentin Willson. In 1988, a young Jeremy Clarkson as added to the presenter list in the beginning of things to come.
As the show became more popular, it became nationally broadcast and it's influence (especially with negative reviews of cars) as car manufactures noticed rises and dips in sales around getting press on the show. This however wouldn't mean that the show itself was immune from bad press.
In 1999, new presenter Brendan Coogan was charged with drunk driving and quit the show. This was followed by Clarkson leaving the show in 2001 and the BBC cancelling a live show at the NEC the same year. The next year, their competitor Channel 5 launched "Fifth Gear". A motoring show presented by former "Top Gear" hosts Tiff Needell, Quentin Willson and Vicki Butler-Henderson. Ratings tanked and the BBC called for a rebranding away from the magazine style to a more entertainment based studio show. This was the beginning of the Clarkson, Hammond and May years and the show most of you know, and were they won their awards.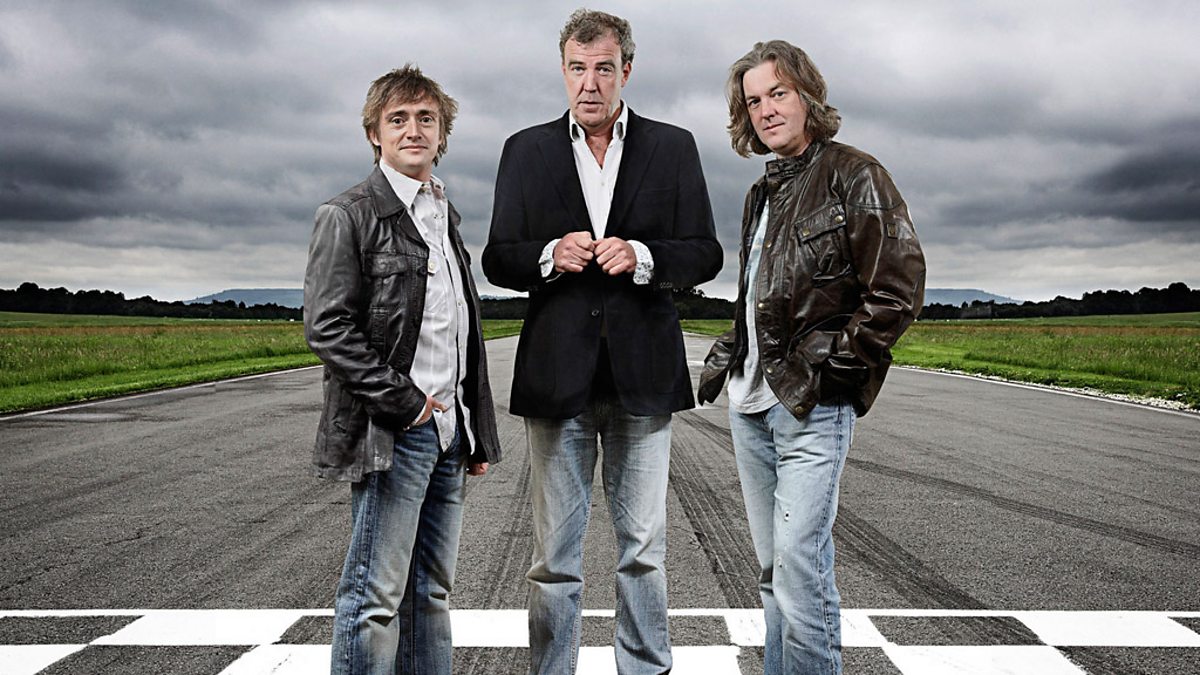 Jump forward to 2015, the shows 22nd season is in mid production as usual. Then news breaks that Clarkson had been suspended for punching a producer over catering. This 'fracas' as Clarkson called it lead to his suspension being upgraded to full dismissal from the show, followed by new contract rejections by May and Hammond, and the quitting of long time series executive producer Andy Wilman.
This was when history repeated. All those that quit moved to Amazon Prime and created "The Grand Tour" just as those that left in 2002 created Channel 5's "Fifth Gear" and the show is being re-launched but this time under UK broadcaster Chris Evans and Matt LeBlanc joined by racing names including Sabine Schmitz and Eddie Jordan. Then there comes some of the recent new stories around the new series' production.
First there was the PR blunder around the crew being seen doing doughnuts and other driving manoeuvrers around the Cenotaph war memorial, which reportedly put a divide between the show new lead hosts Evans and LeBlanc, [Daily Mail]. Then came news that the popular 'Star in a Reasonably Priced Car' segment was to be replaced with 'Star in a Rallycross Car' [Independent] and the current unsubstantiated report that Brad Pitt dropped out from appearing on the show. Considering a running gag for old host Hammond was saying 'we have Angelina Jolie' with comedian Bill Bailey being on the race time board under her name, I lean towards this story being false.
Then there's the other reports that audience members left mid-filming after Evans' missing lines combined with re-shoots added hours to filming time. It was also the first time audience members weren't allowed to bring mobile phones to the record. [Independent]
Other reports a more even handed like one by The Guardian which was were I came up with a theory around the reports. Assuming the verifiable reports are true, the production is clearly troubled. But not troubled because of diva-ism or squabbles. It seems (to me) to be because of a lack of skill and experience around the show. When the show reinvented itself in 2003 with Clarkson, Hammond and May, they all had presented the show before and the production staff behind the scenes didn't change. This time, they all (at best) had only been guests on the show and long time producers like Wilman aren't there for continuity. This isn't a simple reinvention like 2003. Back then it was a change because the presenters changed. This time it's a new cast and crew.
The show name may be one that has lasted for 30 years but the current staff are all but new to the show. Time is the asset they need to keep going so bad press is the last thing they need. Might be why they have such a dramatic response when bad reports (true and false) get published. The show might still even be good. The only we'll know is what the show airs on Sunday.
"Top Gear" airs this Sunday on BBC2 at 8PM.