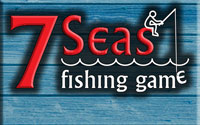 If you are a 7seas Fisher in Second Life, then you know what Fishversary means! Over the weekend, the creators of the very popular 7Seas Fishing game in Second Life, released information about Fishversary 2013. Fishversary celebrates the birthday of the creation of the 7Seas game.
Below is the press release that was sent out in the 7Seas Social group:
Fishiversary 2013 is coming, May 3rd through 6th!
Every spring and fall we throw a party spanning 3 sims. This one, the spring festival, celebrates the birthday of 7Seas — and as always, our community of great fishers, fishing area owners, and custom catch builders.
Stop by Party Island on Osmium for exclusive 7Seas customs, and then travel to Iridium and Ruthenium to fish special customs from different fishing areas from all over Second Life.
Our 7Seas Fishiversary festival will be open to the public from Friday, May 3rd, to Monday, May 6th. Set-up on Thursday, May 2nd. (If most areas seem ready before Friday, we might open early as well.)
And if you have a public 7Seas fishing area or another fishy business, join us: we offer 32 (+ 8 as needed) festival display slots total, spread out across two sims, with the "party sim" in between them.
You're free to build within your available 16x16x16 watery space all the way down to the ocean floor (20 m below water level). If you want a dock or island, bring or build one that fits. Be creative and have fun! Please keep it "General" rated.
The application was a notecard included in the notice. You can join the 7Seas group by purchasing one of their rods and rezzing the special group inviter. For questions or comments about 7Seas please contact their friendly customer service representative in world, 7Seas Sass. You can also visit the official 7Seas website.