With the worst films of the year already gone through, I thought I'd treat you all to my list of the 20 best films of 2015 (going by UK release dates). It really has been quite a strong year for film and I really can't wait to see what 2016 has in store.

Before I get going, here are some honourable mentions that didn't quite make the cut:

Carol
Beasts of No Nation
Spectre
Everest
Me and Earl and the Dying Girl
Big Hero 6
Kingsman: The Secret Service
The Voices
A Most Violent Year
Dope

So, without further ado, here are my 20 best films of 2015…

20) Ant-Man

Marvel Studios rounded off Phase Two of the Marvel Cinematic Universe, rather surprisingly, with the smaller in scale Ant-Man. Introducing a new character at this stage in the MCU was a refreshing move that took us away from old favourites while bringing in a new and, surely soon to be, favourite in the shape of Paul Rudd's Ant-Man. Peyton Reed managed to find the perfect blend of comedy and inventive action sequences that really give the film a bit of a different feel to others in the MCU.


19) Jurassic World

An unpopular opinion I'm sure however, I can't deny that I had tons of fun while watching Jurassic World. Re-establishing a franchise is never easy but director Colin Trevorrow did a fine job in making this a very welcome return to Jurassic Park. Granted, the dialogue and some of the characters are a bit suspect yet it delivered like a tentpole summer blockbuster should do. Try not to be screaming with joy at the final half hour, it's impossible.


18) Bridge of Spies

The combination of Steven Spielberg and Tom Hanks is enough to make any film fan salivate. Bridge of Spies may not be as showy as some of their previous works but it is still a very well made film, depicting an important event of the Cold War. Spielberg almost effortlessly tells a story of humanity in a time of war and Hanks does what Hanks does so well in making a character so likeable. Bridge of Spies also introduced me, and most of the world, to the talented Mark Rylance, who we'll be seeing more of in Spielberg's The BFG, out next year.


17) Steve Jobs

Michael Fassbender reading the words of Aaron Sorkin in a film directed by Danny Boyle sounds like a match made in heaven to me. In Steve Jobs, all three come together rather brilliantly in an onslaught of dialogue that will make you think it isn't just sticks and stones that can break bones. It's not a conventional biopic by any means, taking place over three separate and iconic product launches, but that's what makes the film so interesting and different. The energy that this film possesses is quite something and you can feel it in the performances, the screenplay and direction.


16) Legend

Tom Hardy is one of the most sought after actors working right now and in Legend we got two very good performances for the price of one. Playing both Ronnie and Reggie Kray, Hardy oozes charisma in this stylish British gangster film. Thankfully the film doesn't just rely on the performance of Hardy with Emily Browning offering fine support as the fragile Frances. Also, Tom Hardy fighting Tom Hardy is up there as one of my favourite scenes of the year.


15) Southpaw

I do love a boxing film. Southpaw certainly won't live on as a classic like Rocky however, it sure as hell packed quite an emotional punch to accompany the pulsating boxing sequences. If you aren't a fan of boxing films, Southpaw is definitely worth watching for the stand-out performance from Jake Gyllenhaal alone. 


14) Mission: Impossible – Rogue Nation 

This action franchise simply just doesn't want to quit and, after this latest instalment, I want to see it carry on for as long as possible. Opening with an exhilarating stunt that sees Tom Cruise's Ethan Hunt hanging from the side of a plane mid take-off, Mission: Impossible – Rogue Nation really was refreshingly good for a franchise that is now five films old. You expect them to get worse as they go on but these keep going from strength to strength.


13) The Gift

Joel Edgerton's directorial debut really is one of the more unsettling films I've seen in the past few years. It's a well written, directed and acted psychological thriller that will leave you in shock when the ballsy twist comes at the end. I won't say any more as I don't want to ruin it so please make sure you check it out.


12) Sicario 

Sicario is a slow-burning action thriller from Denis Villeneuve that will test a lot of people's patience yet, if you're willing to stick with it, becomes one of those experiences in a cinema you won't forget in a while. Villeneuve manages to get the best out his talented cast yet again, with Emily Blunt turning in a steely performance amongst both male leads. There is also the wondrous cinematography of Roger Deakins to gaze upon. 


11) Straight Outta Compton 

What I like most about Straight Outta Compton was just how much it surprised me. I mean, I wasn't expecting to like this film half as much as I did in the end. The trouble that this group had to go through and the performances from everyone really do make this such a great biopic. If that's not enough, Straight Outta Compton really does come alive in the brilliantly executed concert sequences that make you feel as if you're there.


10) The Martian 

The Martian saw Ridley Scott well and truly return to form and Matt Damon give possibly his best performance. What about that doesn't make The Martian sound worth watching?


9) Avengers: Age of Ultron

The MCU expanded even further with Age of Ultron, the superhero team up that went bigger and darker than its predecessor. Old characters integrated with new team members really well thanks to the magic touch of Joss Whedon. It's by no means perfect but I was thoroughly entertained from start to finish. I really can't wait to see where they take the MCU in Phase Three. If this is anything to go by, we're in for something quite spectacular.


8) Selma

This powerful biopic that depicts one of the most important movements in the history of the human race really is note perfect in tone and performance, particularly the lead one of David Oyelowo, who was unceremoniously snubbed by the Academy last awards season. It's simply a film that needs to be watched, not ignored.


7) Foxcatcher 

I found myself totally engrossed with the story and the characters of Foxcatcher, portrayed through a trio of great performances from Steve Carell, Channing Tatum and Mark Ruffalo. Bennett Miller's direction builds the tension between the characters brilliantly, culminating in a shocking ending that left me open-mouthed. It doesn't move at such a great pace but it doesn't really need to at all thanks to the quality of Bennett as a director and his superb cast.


6) Inside Out 

Damn Pixar and their ability to tap into the human emotions! Inside Out is without a doubt one of the most grown-up animated films I've ever seen but the real joy of it is that both kids and adults alike will enjoy it. The combination of wonderful animation and glorious imagination from Pixar is a real treat and if you thought the end of Toy Story 3 was emotional, just wait until you watch Inside Out.


5) Ex Machina 

The exploration of artificial intelligence in film always throws up some interesting examples. In Ex Machina, I think I've found my favourite. I like thought provoking films, particularly when they leave you thinking about them for days and Ex Machina is certainly one of them. Alex Garland delivers one of the best directorial debuts and he is aided by a trio of performances from Oscar Isaac, Domhnall Gleeson and Alicia Vikander that really elevate the film to great heights. Unmissable.


4) Birdman

I just cannot get my head round how good Birdman actually is. I mean, the film is designed as one long take which, while being a beautiful way of shooting a film, is just the start of things to love about this film. The script is darkly comic and the cast are all on top form in Alejandro Gonzalez Inarritu's brilliant black comedy about a washed up actor, played by the magnificent Michael Keaton, looking to get both his career and family life back on track.


3) Star Wars: The Force Awakens 

After an initial viewing where I felt a little disappointment, I went back and was totally blown away by what J.J. Abrams had done in bringing the Star Wars saga back from the dead. It's an absolute joy to see the old mix it with the new in the start of a new trilogy that looks like it could become the most successful film of all time. The Force Awakens is one hell of a triumphant return for the Star Wars franchise and one I can't wait to see again and again.


2) Mad Max: Fury Road

So close to making it to the number one spot, Mad Max: Fury Road revels in all its chaotic glory and number two in my list. Simply put, this is an action masterpiece that needs to be seen on the biggest and loudest screen you can get your hands on. George Miller conducts his symphony of destruction with such grace and elegance that you can't help but watch in a trance. 


1) Whiplash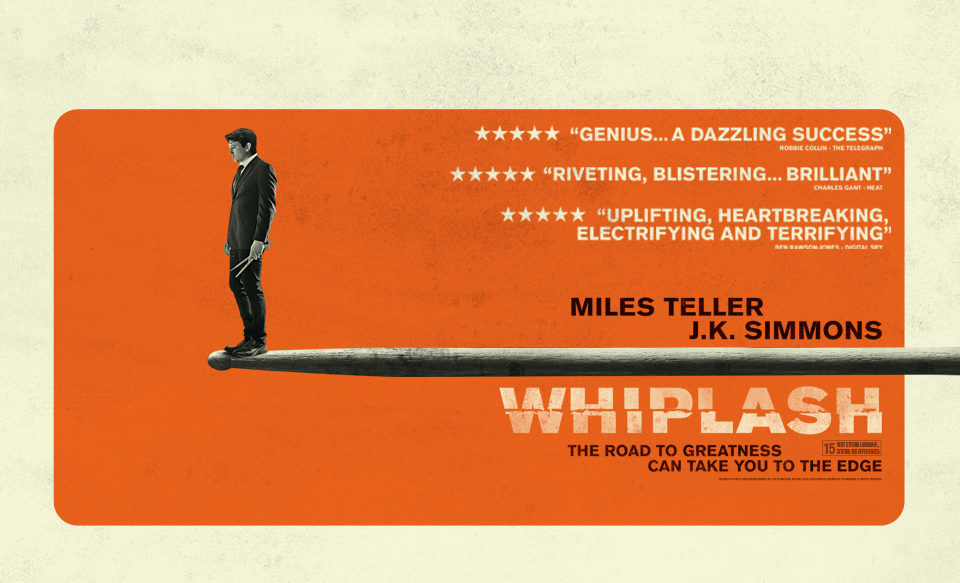 Wow. Whiplash is a prime example of how a small independent film can make such an impact in cinema. Damien Chazelle's film explores the relationship between teacher and student, how they push each other for greatness and how far they will go to reach their goal. Miles Teller is great as the student but it's J.K. Simmons who steals the show as the almost barbaric teacher in their game of cat and mouse. I can't mention Whiplash without talking about the phenomenal editing of the musical sequences and the last scene that left me breathless.