It hardly feels as if another year has gone by but, ladies and gentlemen, it's that time of year again. The awards season draws to a close tonight with the 88th Academy Awards ceremony in Los Angeles. 

The ceremony this year is facing more controversy than ever surrounding the fact there is no diversity amongst the nominees for the acting awards. Everyone from nominee Charlotte Rampling to Meryl Streep has had their say on the matter and I'm sure we will be hearing a lot more about it from host, Chris Rock, on the night.

I haven't been able to watch every single film nominated so, for that reason, I will only be predicting winners for the following eight awards; Best Original Screenplay, Best Adapted Screenplay, Best Supporting Actress, Best Supporting Actor, Best Actress, Best Actor, Best Director and, the big one, Best Picture.

Let the games begin…
Best Original Screenplay
Nominees:
Bridge of Spies (Matt Charman, Joel Coen & Ethan Coen)
Ex Machina (Alex Garland)
Inside Out (Pete Docter, Meg LeFauve, Josh Cooley & Ronnie del Carmen)
Spotlight (Tom McCarthy & Josh Singer)
Straight Outta Compton (Jonathan Herman, Andrea Berloff, S. Leigh Savidge & Alan Wenkus

And the winner is…
I'm surprised that Quentin Tarantino hasn't been nominated for The Hateful Eight however, even if he had been nominated, I could still see Tom McCarthy and Josh Singer winning for Spotlight. The screenplay is just one of the outstanding aspects from the film and it deals with such a delicate subject in such a powerful manner.
Best Adapted Screenplay
The Big Short (Adam McKay & Charles Randolph)
The Martian (Drew Goddard)
Like Tarantino before, I'm surprised that Aaron Sorkin hasn't got a nomination for his work on Steve Jobs because, quite honestly, it's the only other screenplay I can think of that would challenge the work of Adam McKay and Charles Randolph on The Big Short for this award. It will be a walk in the park for them tonight.
Best Supporting Actress
Jennifer Jason Leigh – The Hateful Eight as Daisy Domergue
Rooney Mara – Carol as Therese Belivet
Rachel McAdams – Spotlight as Sacha Pfeiffer
Alicia Vikander – The Danish Girl as Gerda Wegener
Kate Winslet – Steve Jobs as Joanna Hoffman
This is the strongest the Best Supporting Actress category has been for a few years but I fully expect Alicia Vikander to come out on top for her fantastic performance in The Danish Girl, where she was arguably better than Eddie Redmayne. Kate Winslet won the award at the Golden Globes and BAFTAs however, Vikander was nominated for Best Actress for The Danish Girl. It just goes to show exactly how strong this category is when I say that Rachel McAdams and Jennifer Jason Leigh are the outside long shots, when they were most impressive in their respective roles. 
Best Supporting Actor 
Christian Bale – The Big Short as Michael Burry
Tom Hardy – The Revenant as John Fitzgerald
Mark Ruffalo – Spotlight as Michael Rezendes
Mark Rylance – Bridge of Spies as Rudolf Abel
Sylvester Stallone – Creed as Rocky Balboa
If there is one thing the Academy loves, it's a heartwarming story on the night. There would be none better than Sylvester Stallone winning an award for the role he was first nominated for way back in 1977. It's a strong field, with Mark Ruffalo providing the most difficult obstacle in my opinion, and there definitely should be room for an Idris Elba nomination however, Stallone really is brilliant in Creed. He's had his critics over the years for his acting, hell even I've slated him at times, but I want to see him win tonight.
Best Actress 
Cate Blanchett – Carol as Carol Aird 
Brie Larson – Room as Joy "Ma" Newsome
Jennifer Lawrence – Joy as Joy Mangano
Charlotte Rampling – 45 Years as Kate Mercer
Saoirse Ronan – Brooklyn as Eilis Lacey
She's won near enough every single awards she's been nominated for as "Ma" in Room so I fully expect Brie Larson to be taking her place in the winner's photo later on in the evening. It would be well and truly deserved for her heartbreaking performance in Room.
Best Actor 
Nominees:
Bryan Cranston – Trumbo as Dalton Trumbo
Matt Damon – The Martian as Mark Watney
Leonardo DiCaprio – The Revenant as Hugh Glass
Michael Fassbender – Steve Jobs as Steve Jobs
Eddie Redmayne – The Danish Girl as Lili Elbe

And the winner is…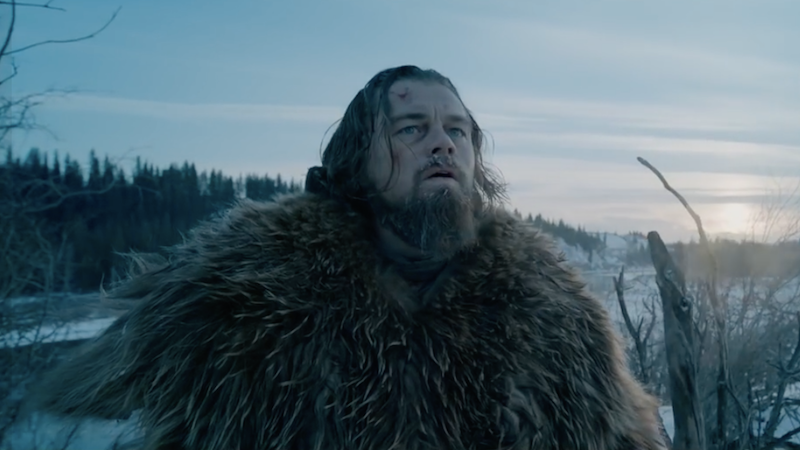 Expect the roof of the Dolby Theatre to come off when Leonardo DiCaprio's name is inevitably read out as the winner of the Best Actor award. His speech may also be cut short by the fact that he is bound to receive a long standing ovation from his acting peers. It's the name people have been wanting to hear as a winner at the Academy Awards for years and I'm sure it will happen tonight. Personally, Michael Fassbender is DiCaprio's main challenger but I think DiCaprio's turn in The Revenant will be too hard to ignore.
Best Director
Adam McKay – The Big Short 
George Miller – Mad Max: Fury Road
Alejandro G. Inarritu – The Revenant
If Inarritu does pull it off and win the Best Director award for the second year in a row, he will become only the third man to do so, after John Ford and Joseph L. Mankiewicz back in the 1940s and 50s. There are many people who think this would be undeserved however, with The Revenant being one of the most stunning achievements in modern cinema, it would be hard to begrudge the man of this achievement.
Best Picture
Nominees:
The Big Short 
Bridge of Spies
Brooklyn
Mad Max: Fury Road
The Martian
The Revenant
Room 
Spotlight

And the winner is…
There have been shocks before in this category. Remember Crash winning ahead of Brokeback Mountain back in 2005? Everyone is expecting The Revenant to be awarded the biggest award of the night but there has been a bit of a buzz surrounding the push for other films to win it, most notably The Big Short and Spotlight. I'm going to go with what I think is the best film and this is Spotlight.